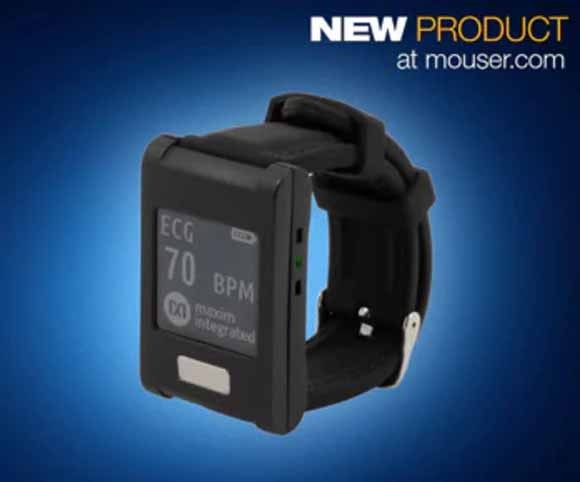 November 13, 2018 – Mouser Electronics is now stocking the MAXREFDES101 Health Sensor Platform 2.0 from Maxim Integrated. The MAXREFDES101 incorporates a comprehensive range of Maxim products to provide a rapid prototyping, evaluation, and development platform for medical applications, providing accurate monitoring of body temperature, heart rate, and electrocardiogram (ECG).
The Maxim MAXREFDES101 Health Sensor Platform 2.0, available from Mouser Electronics, is comprised of a watch enclosure that houses a display, battery, micro board, and sensor board. The micro board integrates a Maxim MAX32630 Arm Cortex-M4F microcontroller, MAX20303 power-management IC, dual-mode Bluetooth technology, and a six-axis accelerometer and gyroscope. The platform's sensor board includes a MAX86141 optical sensor, MAX30001 integrated biopotential and bioimpedance analog front-end (AFE), MAX30205 temperature sensor, and MAX32664 biometric sensor hub. The MAX32664 biometric sensor hub features embedded firmware and algorithms to simplify the development process, enabling seamless communication with the optical sensors.
Engineers can easily store data on the open-source platform or stream it via Bluetooth to an Android app or PC, conducting their own analyses and evaluating on-board algorithms, all while maintaining data privacy. The modular health sensor platform provides a future-proof solution for developing wearable health devices, enabling the simple integration of new sensors.
Providing immediate basic health sensor functionality, the MAXREFDES101 Health Sensor Platform 2.0 saves months of development for applications including sports watches, ECG monitors, and healthcare trackers. The real-time data collected by MAXREFDES101 wearable devices can be accessed from anywhere, allowing health care professionals to evaluate patients and provide proactive care.
To learn more, visit www.mouser.com/maxim-maxrefdes101-eval-platform.