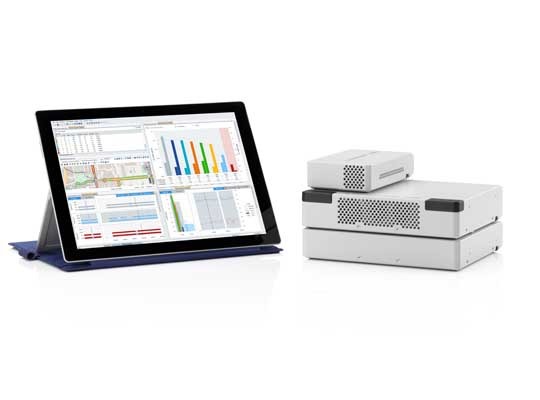 17 April, 2017 – Understanding 5G NR coverage in real-world environments is important. In particular, new frequencies in the mmWave range, such as 28 GHz, can create uncertainties for 5G NR technology providers. In addition to 5G NR coverage, there is also a need to test the network – device connection and KPIs using pre-commercial or commercial 5G NR devices. In order to address the challenges involving the new 5G NR technology, Rohde & Schwarz supports the industry with a new solution for mmWave frequencies and end-to-end measurements.
Until now, the R&S TSMx6 network scanner could analyze 5G NR signals up to 6 GHz. With the new R&S TSME30DCdownconverter, the network scanners can analyze signals up to 30 GHz. The solution uses an updated version of the R&S ROMES4 drive test software, which already today supports measurements on 5G NR user equipment, e.g. evaluation boards, USB dongles and pre-commercial and commercial smartphones as they become available. This allows manufacturers of 5G NR technology to gain early insights into a device's performance and its interaction with real 5G NRnetworks.
The solution includes the recently introduced R&S SmartAnalytics web-based software suite. The R&S SmartAnalyticsprovides intuitive and powerful analytics and drill down functions to analyze the collected measurement data over the entire network test cycle, supporting the analysis and visualization of 5G NR scanner and UE measurements.
Hanspeter Bobst, Vice President Market Segment Mobile Network Testing at Rohde & Schwarz, stated: "With the latest additions to our end-to-end network measurement solution, Rohde & Schwarz provides mobile network operators and infrastructure vendors with a complete solution for 5G NR testing. The solution covers data collection with scanners up to mmWave frequencies and with 5G devices as well as powerful data analytics with our SmartAnalytics tool. We enable our customers to be ahead in 5G by achieving superior 5G NR performance in all phases of the network lifecycle."
The R&S TSME30DC downconverter, R&S SmartAnalytics and the R&S ROMES4 drive test software are now available from Rohde & Schwarz.
For more information on Rohde & Schwarz 5G testing, visit www.rohde-schwarz.com/MNT-5G; for information on R&S SmartAnalytics, visit www.rohde-schwarz.com/smart.